LVI is awarded with Red Dot Award Design - again!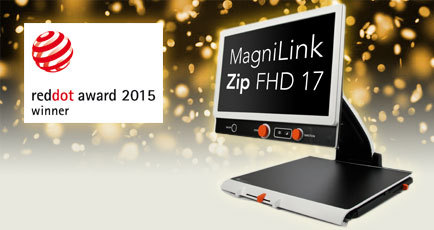 LVI is once again awarded with the prestigious red dot design award - this time for our portable video magnifier MagniLink Zip. This means that the entire range of our MagniLink video magnifiers now have been honored with the red dot design award, and for that, we are naturally very happy and proud.
Our products are developed to be technologically innovative and are known for their outstanding image quality. We like to think of the fact that we once again are awarded the red dot design award as a powerful acknowledgement for our design philosophy. We design our products to be modern, sustainable and user friendly - all with the purpose to offer partially sighted people the best possible products.

The Red Dot Awards program is one of the most highly-respected international design competitions in the world, and celebrates its 60th anniversary in 2015. The jury for 2015 consists of more than 40 design specialists.

The winning products are presented in the Red Dot Design Museums and Red Dot Design Yearbooks, on various online portals, magazines, and TV programmes.

The MagniLink Zip was among other winners such as Ferrari California T, Volvo XC90 and Sony.